Join Our Monthly Newsletter:
Enter your email address: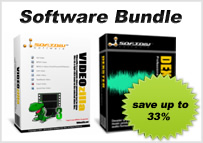 Tutorials > Convert FLV Video
Flash FLV video is one of the most commonly used video format for web video delivery. Video streaming website like Youtube and Vimeo is also using Flash FLV video format. Although Flash FLV is common over the web, in order to play FLV video on the local pc will require installation of additional codec and many mobiles devices also don't recognize this format. To overcome this, we'll need to convert FLV video to other more universal formats such as MP4, AVI, WMV, MOV, MP3, MPG and etc.
Like what you see?
Buy Videozilla Video Converter now