Join Our Monthly Newsletter:
Enter your email address: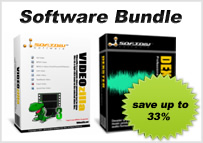 Tutorials > Extract Video to MP3
MPEG Layer-3 or better known as MP3 is a very popular format for keeping of music. You can use Videozilla Video Converter to extract video to audio MP3 files that can then be transferred to your mobile device, iPod, or MP3 player so that you can play it during car ride, while exercise or anywhere you like. Another useful scenario where you've downloaded a Youtube music video and you would like to remove the video and just to keep the music. You may check the video tutorial below for the guide on how to extract video to MP3 with Videozilla Video Converter software.
Like what you see?
Buy Videozilla Video Converter now