Join Our Monthly Newsletter:
Enter your email address: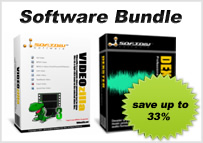 Tutorials > Convert to MP4 Video
MP4 video format is probably the most popular video format right now and is a multimedia container format. MP4 video format is widely supported across mobile devices, computers, tablets, digital cameras, smart watch, digital tv and even on the web. Videozilla Video Converter supports MPEG-4 and H.264 compression for MP4 format. There are also ready-made MP4 presets to cater for your MP4 video conversion purpose. You may check the video tutorial as follow on how to convert to MP4 video quickly and seamlessly.
Like what you see?
Buy Videozilla Video Converter now