Join Our Monthly Newsletter:
Enter your email address: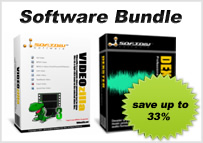 Tutorials > Convert to MPEG Video
MPEG stands for Moving Picture Experts Group, is a working group of the ISO that develops video and audio encoding standards. MPEG video files usually carry the file extension of .mpg, .mpeg, and .dat . MPEG-I is a cross-platform compatible and is widely supported on majority computers environment. MPEG-2 is the successor to MPEG-1. It has better quality of coding, supports multi-channel audio and larger video resolutions. Both MPEG-I and MPEG-2 are supported by Videozilla Video Converter. You can choose to convert your video files as MPEG (MPEG-I or MPEG-2). Detailed video tutorial can be watched below:
Like what you see?
Buy Videozilla Video Converter now