Join Our Monthly Newsletter:
Enter your email address: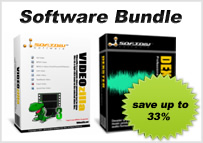 Tutorials > Convert to Real Media Video
Real Media video format is a multimedia container format developed by RealNetworks. Real Media video is encoded with .rm, or .rmvb file extensions and commonly used for video streaming over the internet . To play Real Media video on your computer, you'll have to install the realplayer . Videozilla Video Converter allows you to encode Real Media video format in CBR (constant bitrate) and also VBR (variable bitrate). Watch the video tutorials available on this page for how to convert to Real Media video format.
Like what you see?
Buy Videozilla Video Converter now