Join Our Monthly Newsletter:
Enter your email address: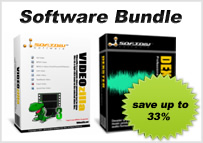 Tutorials > Advanced Video Player
Video player in Videozilla can be used to perform video playback on major popular video formats like flv, mpeg, avi, wmv, mov, mp4 and etc. To use the advanced video player, select the video files that you would like to play, right-click on the mouse and select Play with Videozilla. Watch the video tutorial below for more details.
Like what you see?
Buy Videozilla Video Converter now