Join Our Monthly Newsletter:
Enter your email address: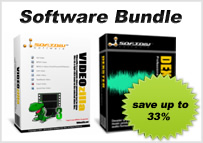 Tutorials > Convert to WMV Video
WMV stands for Windows Media Video is a digital video format developed by Microsoft. It was originally developed for Internet video streaming purpose as a competitior format to RealMedia video. It carry the file extension of .wmv. WMV video also produce excellent video quality with reasonable file size. It is widely supported on Windows platforms. If you are looking for a software to convert to WMV video, look no further. Videozilla Video Converter provides fast and excellent conversion quality for wmv video conversion. Check the video below for the step by step guide:
Like what you see?
Buy Videozilla Video Converter now